Swiftlift Foot Anchors / Stayput Magnetic Anchor Recess
Swiftlift Foot Anchors are the most versatile and widely used anchors in the system. Swiftlift Foot Anchors are available for lifting systems in Load Groups of 1.3 t, 2.5 t, 5.0 t working load limits (WLL) to satisfy different applications.
All Swiftlift anchors are hot dip galvanised for corrosion protection and AISI 316 stainless steel anchors are available on request for special applications.
Foot Anchors efficiently transmit the applied load to the concrete through the uniform conical "foot" of the anchor. The foot induces a shear cone in the concrete which resists pullout.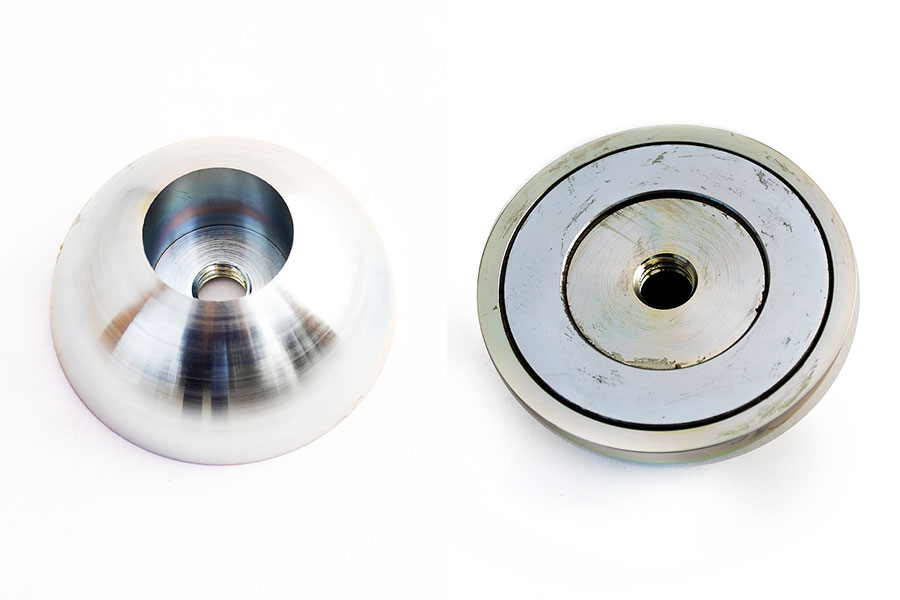 How to use
Stayput Magnetic Steel Recess Formers attach to the steel forms by magnetic means. Foot and Reid Eye Anchors are held in the recess by a special split Rubber Ring which is placed around the anchor shaft, just under the anchor head and then wedged into the mouth of the in-place Recess Former.
When casting is complete and the concrete cured sufficiently, the Stayput Magnetic Steel Recess Former is easily removed utilizing the magnetic force automatically or manually.
Simply remove the ring from under the anchor head and the precast unit is ready to lift. Thoroughly clean the Stayput Magnetic Steel Recess Former immediately after removal and apply mould release oil before each use.
As shown here, our Stayput Magnetic Anchor Recess are used with the below Reid Products being the Swiftlift Lifting Anchor and Rubber Ring, these products are not supplied by us.
Specifications
We have three sizes available with the following specifications:
| | | | | | | |
| --- | --- | --- | --- | --- | --- | --- |
| Model number | Recess for anchors | A | B2 | D | Thread Hole M | D1 |
| D59 Stayput | 1.3t | 5 | 25 | 20.5 | 8 | 59 |
| D74 Stayput | 2.5t | 7 | 31 | 30.0 | 12 | 74 |
| D96 Stayput | 5.0t | 10 | 39 | 37.5 | 12 | 96 |