A revolution in the safety of magnetic lifting
Eclipse Lifting Eye Mechanism guarantees the load cannot be dropped under tension (patent pending)
The only permanent magnetic lifter to come complete with the 'Safety Shim' system (internationally patented)
Guarantees a 3:1 Safety Factor irrespective of unknown weights, poor surface condition, thinner sections, etc
Removes all doubts and uncertainties regarding safe lifts
Is quick and easy to use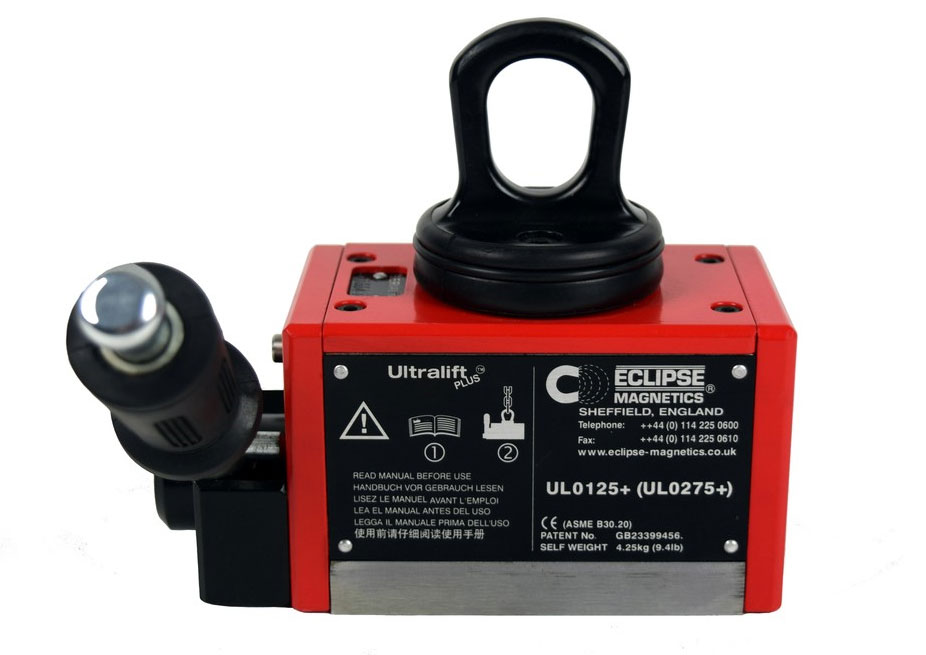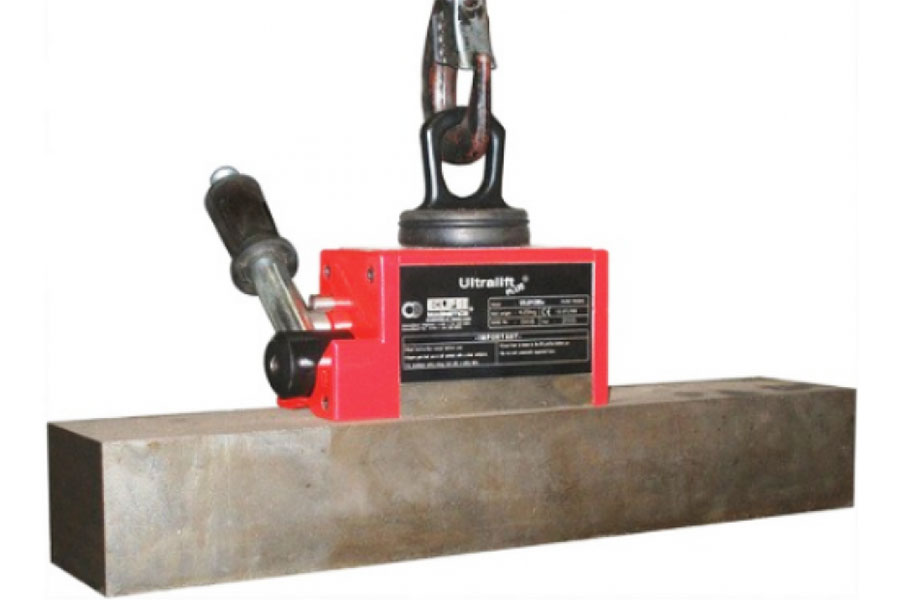 How easy is it to use?
Once the 'Safety Shim' test has been completed you simply lower the Ultralift Plus™ onto the work piece, then by depressing the button on the safety handle (like a car handbrake) the handle can be turned through 120° until it locks under the safety catch – the component can now be lifted. At this stage the Lifting Eye is under tension, activating the operating handle isolator, guaranteeing the load cannot be dropped by accidental switching.
The safety load isolator incorporated in the unique lifting eye mechanism combined with our patented 'Safety Shim' means that safe just got safer.
Specifications
| | | | | | |
| --- | --- | --- | --- | --- | --- |
| Model number | Unit weight | Flat SWL | Min thickness | Round SWL | Max Diameter |
| UL0125+ | 4kg | 125kg | 20mm | 50kg | 200mm |
| UL0250+ | 11kg | 250kg | 25mm | 100kg | 300mm |
| UL0500+ | 27kg | 500kg | 30mm | 200kg | 400mm |
| UL1000+ | 63kg | 1000kg | 45mm | 400kg | 450mm |
| UL2000+ | 157kg | 2000kg | 55mm | 800kg | 600mm |