Innovation in mine safety
A safety issue identified at Centennial Coal lead to the design and development of the Mesh Locator and Retainer Magnet after a miner was hurt when an old mesh locator did not retain the mesh. While the miner was not seriously hurt, the consequences could have been far worse.
Mr Byron Mcilveen, Development Mechanical Engineer, of Centennial Coal contacted International Magnetic Solutions asking if we could design a magnetic system strong enough to keep the mesh grate in place on the ABM 25 Miner.
The Mesh Locator and Retainer Magnet received extensive trials at Centennial and as a result, was fitted to a further four miners.
Hunter Valley Mining & Mandalong was commended for its invention at the NSW Minerals Council OHS Innovations Awards in May 2008.
Testimonial:
"As a result of the ABM Magnetic Mesh Locater there has not been an incident involving roof mesh falling and not being retained in position," Mcilveen said. "Mesh is now overlapping more accurately, providing a more stable environment. This allows easier bolting between the meshes and has assisted in increasing productivity and metres."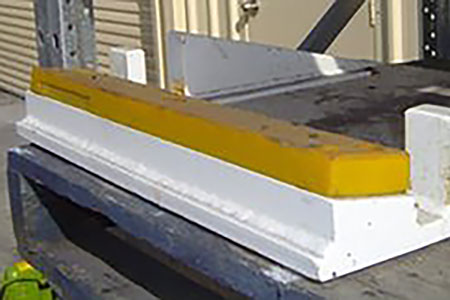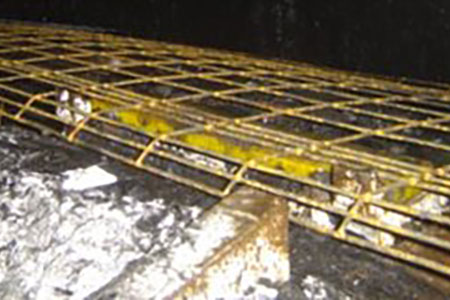 Design features
Quick to install – can be installed in one maintenance shift down-time
Stand-alone system with no need for any additional equipment installation
Easily operated with standard two-man team – one on either side of the miner
Mesh stays in place without the danger or need for hooks, ropes or occasional hand
No additional operating procedures to follow
Overall dimensions are 550 x 75 x 30 mm
The purpose of the magnet is to retain and align the mesh making it easier, faster and safer to operate without limiting the workings of the ABM 25 Miner.
The Mesh Locator and Retainer Magnet is designed to fit the miner and support the cantilever weight of the mesh as it sits in place on the miner in readiness to be bolted to the mine roof. It has been designed to apply a substantial holding to the mesh even though the mesh is made from relatively thin and sparsely positioned iron rods.
The magnets incorporated in the system are the highest energy magnets available, those of which International Magnetic Solutions has been specialising in since their creation.
The Mesh Locator and Retainer Magnet is totally encased in a mining grade yellow urethane and is structurally reinforced with a substantial steel member.
How it works
The Mesh Locator and Retainer Magnet is easily secured in place using 5 M16 shoulder Allen head bolts. The head of the bolts is recessed within the urethane coating providing a flat catch free surface, totally eliminating any obstruction to mesh movement. It is supplied in 2 formats:
As a new or a replacement part
A complete unit together with steel Magnet Base Locator Grizzly mounting plate designed for easy direct fitting to the ABM 25 Miner. It is a straight replacement fit to the current Grizzly.